Designed for small children, this one-speed racer is built of machined aluminum,
steel, stainless steel, bronze, brass, fiberglass, acetal, Teflon and assorted manufactured components. It uses bicycle disk brakes, handlebar and stem, child-carrier seat, chain, sprockets, pedals and tires. The wheels were ordered from the manufacturer, while the idler pulley behind the chain ring is an inline-skate wheel with a groove machined into it.

Besides being a one-of-a-kind creation, the car employs an innovative braking system activated by backpedaling. This is accomplished via a reverse-mounted freewheel connected to a brake cable.
The car is very fast and very safe. It cannot be tipped over, and the brakes are powerful enough to lock the rear wheels in a panic stop.
Telescope
6-inch Newtonian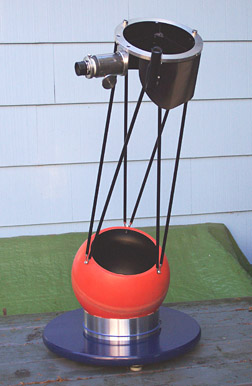 Built as a ball-and-socket device, this reflecting telescope carries its mirror in the orange ball that rides on a machined aluminum "socket" or ring. It has many interesting features, including a spring counterbalance system that resists the telescope's tendency to fall when aimed at a low elevation; an ingenious focusing mechanism that employs captured steel balls and dental floss (!); a precise and foolproof mirror cell and collimation system; and very light weight and thermal mass (important for image quality).
The tough plastic ball is actually a "trawl ball," or submersible float used by fishing trawlers to hold nets open. It was machined on a lathe to remove its center tube and to create openings for the mirror and cell. The truss frame is made of aluminum tent poles attached to a machined aluminum ring; the base is a wooden tabletop from Home Depot. Underneath, the feet are actually rubber door bumpers. I did not grind the mirror, although I did try. This one was made by a custom mirror maker in California. It deliversexcellent optical performance.